MORIA CAMP, LESBOS, Greece – Mosa did not choose to come forward. Word had spread among the thousands of asylum seekers huddled inside Moria that social workers were looking for lone children among the general population. High up on the hillside, in the Afghan area of the chaotic refugee camp on the Greek island of Lesbos, some residents knew someone they suspected was still a minor. They led the aid workers to Mosa.
The boy, whose broad and beardless face mark him out as a member of the Hazara ethnic group, had little reason to trust strangers. It was hard to persuade him just to sit with them and listen. Like many lone children, Mosa had slipped through the age assessment carried out on first arrival at Moria: He was registered as 27 years old. With the help of a translator, the social worker explained that there was still time to challenge his classification as an adult. But Mosa did not seem to be able to engage with what he was being told. It would take weeks to establish trust and reveal his real age and background.
Most new arrivals experience shock when their hopes of a new life in Europe collide with Moria, the refugee camp most synonymous with the miserable consequences of Europe's efforts to contain the flow of refugees and migrants across the Aegean. When it was built, the camp was meant to provide temporary shelter for fewer than 2,000 people. Since the European Union struck a deal in March 2016 with Turkey under which new arrivals are confined to Greece's islands, Moria's population has swollen to 9,000. It has become notorious for overcrowding, snowbound tents, freezing winter deaths, violent protests and suicides by adults and children alike.
While all asylum systems are subjective, he said that the situation on Greece's islands has turned the search for protection into a "lottery."
Stathis Poularakis is a lawyer who previously served for two years on an appeal committee dealing with asylum cases in Greece and has worked extensively on Lesbos. While all asylum systems are subjective, he said that the situation on Greece's islands has turned the search for protection into a "lottery."
Asylum claims on Lesbos can take anywhere between six months and more than two years to be resolved. In the second quarter of 2018, Greece faced nearly four times as many asylum claims per capita as Germany. The E.U. has responded by increasing the presence of the European Asylum Support Office (EASO) and broadening its remit so that EASO officials can conduct asylum interviews. But the promises that EASO will bring Dutch-style efficiency conceal the fact that the vast majority of its hires are not seconded from other member states but drawn from the same pool of Greeks as the national asylum service.
Asylum caseworkers at Moria face an overwhelming backlog and plummeting morale. A serving EASO official describes extraordinary "pressure to go faster" and said there was "so much subjectivity in the system." The official also said that it was human nature to reject more claims "when you see every other country is closing its borders."
Meanwhile, the only way to escape Moria while your claim is being processed is to be recognized as a "vulnerable" case. Vulnerables get permission to move to the mainland or to more humane accommodation elsewhere on the island. The term is elastic and can apply to lone children and women, families or severely physically or mentally ill people. In all cases the onus is on the asylum seeker ultimately to persuade the asylum service, Greek doctors or the United Nations Refugee Agency that they are especially vulnerable.
The ensuing scramble to get out of Moria has turned the camp into a vast "vulnerability contest," said Poularakis. It is a ruthless competition that the most heavily traumatized are often in no condition to understand, let alone win.
Twice a Refugee
Mosa arrived at Moria in October 2017 and spent his first night in Europe sleeping rough outside the arrivals tent. While he slept someone stole his phone. When he awoke he was more worried about the lost phone than disputing the decision of the Frontex officer who registered him as an adult. Poularakis said age assessors are on the lookout for adults claiming to be children, but "if you say you're an adult, no one is going to object."
Being a child has never afforded Mosa any protection in the past: He did not understand that his entire future could be at stake. Smugglers often warn refugee children not to reveal their real age, telling them that they will be prevented from traveling further if they do not pretend to be over 18 years old.
Like many other Hazara of his generation, Mosa was born in Iran, the child of refugees who fled Afghanistan. Sometimes called "the cursed people," the Hazara are followers of Shia Islam and an ethnic and religious minority in Afghanistan, a country whose wars are usually won by larger ethnic groups and followers of Sunni Islam. Their ancestry, traced by some historians to Genghis Khan, also means they are highly visible and have been targets for persecution by Afghan warlords from 19th-century Pashtun kings to today's Taliban.
In recent decades, millions of Hazara have fled Afghanistan, many of them to Iran, where their language, Dari, is a dialect of Persian Farsi, the country's main language.
"We had a life where we went from work to home, which were both underground in a basement," he said. "There was nothing (for us) like strolling the streets. I was trying not to be seen by anyone. I ran from the police like I would from a street dog."
Iran hosts 950,000 Afghan refugees who are registered with the U.N. and another 1.5 million undocumented Afghans. There are no official refugee camps, making displaced Afghans one of the largest urban refugee populations in the world. For those without the money to pay bribes, there is no route to permanent residency or citizenship. Most refugees survive without papers on the outskirts of cities such as the capital, Tehran. Those who received permits, before Iran stopped issuing them altogether in 2007, must renew them annually. The charges are unpredictable and high. Mostly, the Afghan Hazara survive as an underclass, providing cheap labor in workshops and constructions sites. This was how Mosa grew up.
"We had a life where we went from work to home, which were both underground in a basement," he said. "There was nothing (for us) like strolling the streets. I was trying not to be seen by anyone. I ran from the police like I would from a street dog."
But he could not remain invisible forever and one day in October 2016, on his way home from work, he was detained by police for not having papers.
Sitting in one of the cantinas opposite the entrance to Moria, Mosa haltingly explained what happened next. How he was threatened with prison in Iran or deportation to Afghanistan, a country in which he has never set foot. How he was told that that the only way out was to agree to fight in Syria – for which they would pay him and reward him with legal residence in Iran.
"In Iran, you have to pay for papers," said Mosa. "If you don't pay, you don't have papers. I do not know Afghanistan. I did not have a choice."
As he talked, Mosa spread out a sheaf of papers from a battered plastic wallet. Along with asylum documents was a small notepad decorated with pink and mauve elephants where he keeps the phone numbers of friends and family. It also contains a passport-sized green booklet with the crest of the Islamic Republic of Iran. It is a temporary residence permit. Inside its shiny cover is the photograph of a scared-looking boy, whom the document claims was born 27 years ago. It is the only I.D. he has ever owned and the date of birth has been faked to hide the fact that the country that issues it has been sending children to war.
Mosa is not alone among the Hazara boys who have arrived in Greece seeking protection, carrying identification papers with inflated ages. Refugees Deeply has documented the cases of three Hazara child soldiers and corroborated their accounts with testimony from two other underage survivors. Their stories are of childhoods twice denied: once in Syria, where they were forced to fight, and then again after fleeing to Europe, where they are caught up in a system more focused on hard borders than on identifying the most damaged and vulnerable refugees.
From Teenage Kicks to Adult Nightmares
Karim's descent into hell began with a prank. Together with a couple of friends, he recorded an angsty song riffing on growing up as a Hazara teenager in Tehran. Made when he was 16 years old, the song was meant to be funny. His band did not even have a name. The boys uploaded the track on a local file-sharing platform in 2014 and were as surprised as anyone when it was downloaded thousands of times. But after the surprise came a creeping sense of fear. Undocumented Afghan refugee families living in Tehran usually try to avoid drawing attention to themselves. Karim tried to have the song deleted, but after two months there was a knock on the door. It was the police.
"I asked them how they found me," he said. "I had no documents but they knew where I lived."
Already estranged from his family, the teenager was transported from his life of working in a pharmacy and staying with friends to life in a prison outside the capital. After two weeks inside, he was given three choices: to serve a five-year sentence; to be deported to Afghanistan; or to redeem himself by joining the Fatemiyoun.
According to Iranian propaganda, the Fatemiyoun are Afghan volunteers deployed to Syria to protect the tomb of Zainab, the granddaughter of the Prophet Mohammad. In reality, the Fatemiyoun Brigade is a unit of Iran's powerful Revolutionary Guard, drawn overwhelmingly from Hazara communities, and it has fought in Iraq and Yemen, as well as Syria. Some estimates put its full strength at 15,000, which would make it the second-largest foreign force in support of the Assad regime, behind the Lebanese militia group Hezbollah.
Karim was told he would be paid and given a one-year residence permit during leave back in Iran. Conscripts are promised that if they are "martyred," their family will receive a pension and permanent status. "I wasn't going to Afghanistan and I wasn't going to prison," said Karim. So he found himself forced to serve in the Fatemiyoun.
His first taste of the new life came when he was transferred to a training base outside Tehran, where the recruits, including other children, were given basic weapons training and religious indoctrination. They marched, crawled and prayed under the brigade's yellow flag with a green arch, crossed by assault rifles and a Koranic phrase: "With the Help of God."
"Imagine me at 16," said Karim. "I have no idea how to kill a bird. They got us to slaughter animals to get us ready. First, they prepare your brain to kill."
The 16-year-old's first deployment was to Mosul in Iraq, where he served four months. When he was given leave back in Iran, Karim was told that to qualify for his residence permit he would need to serve a second term, this time in Syria. They were first sent into the fight against the so-called Islamic State in Raqqa. Because of his age and physique, Karim and some of the other underage soldiers were moved to the medical corps. He said that there were boys as young as 14 and he remembers a 15-year-old who fought using a rocket-propelled grenade launcher.
"One prisoner was killed by being hung by his hair from a tree. They cut off his fingers one by one and cauterized the wounds with gunpowder."
"I knew nothing about Syria. I was just trying to survive. They were making us hate ISIS, dehumanizing them. Telling us not to leave one of them alive." Since media reports revealed the existence of the Fatemiyoun, the brigade has set up a page on Facebook. Among pictures of "proud volunteers," it shows stories of captured ISIS prisoners being fed and cared for. Karim recalls a different story.
"One prisoner was killed by being hung by his hair from a tree. They cut off his fingers one by one and cauterized the wounds with gunpowder."
The casualties on both sides were overwhelming. At the al-Razi hospital in Aleppo, the young medic saw the morgue overwhelmed with bodies being stored two or three to a compartment. Despite promises to reward the families of martyrs, Karim said many of the bodies were not sent back to Iran.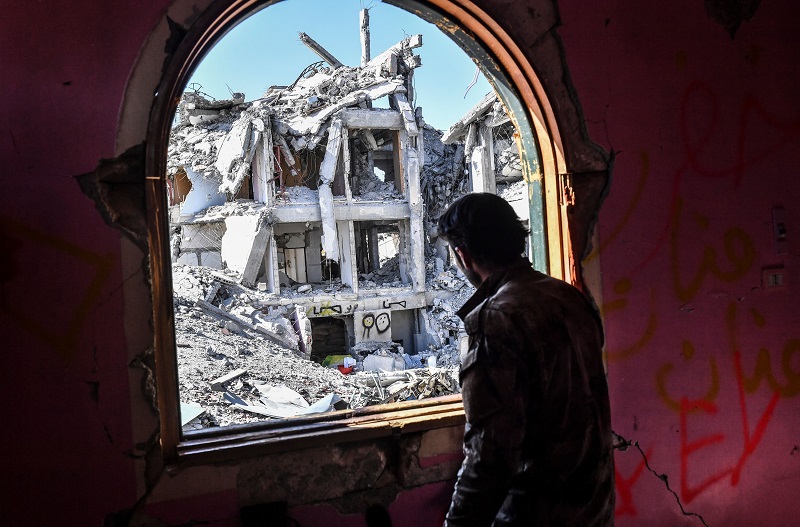 'I Didn't Go to Syria by Choice'
Mosa's basic training passed in a blur. A shy boy whose parents had divorced when he was young and whose father became an opium addict, he had always shrunk from violence. He never wanted to touch the toy guns that other boys played with. Now he was being taught to break down, clean and fire an assault rifle.
The trainees were taken three times a day to the imam, who preached to them about their holy duty and the iniquities of ISIS, often referred to as Daesh.
"They told us that Daesh was the same but worse than the Taliban," said Mosa. "I didn't listen to them. I didn't go to Syria by choice. They forced me to. I just needed the paper."
Mosa was born in 2001. Before being deployed to Syria, the recruits were given I.D. tags and papers that deliberately overstated their age: In 2017, Human Rights Watch released photographs of the tombstones of eight Afghan children who had died in Syria and whose families identified them as having been under 18 years old. The clerk who filled out Mosa's forms did not trouble himself with complex math: He just changed 2001 to 1991. Mosa was one of four underage soldiers in his group. The boys were scared – their hands shook so hard they kept dropping their weapons. Two of them were dead within days of reaching the front lines.
"I didn't even know where we were exactly, somewhere in the mountains in a foreign country. I was scared all the time. Every time I saw a friend dying in front of my eyes I was thinking I would be next," said Mosa.
He has flashbacks of a friend who died next to him after being shot in the face by a sniper. After the incident, he could not sleep for four nights. The worst, he said, were the sudden raids by ISIS when they would capture Fatemiyoun fighters: "God knows what happened to them."
Iran does not release figures on the number of Fatemiyoun casualties. In a rare interview earlier this year, a senior officer in the Iranian Revolutionary Guard suggested as many as 1,500 Fatemiyoun had been killed in Syria. In Mashhad, an Iranian city near the border with Afghanistan where the brigade was first recruited, video footage has emerged of families demanding the bodies of their young men believed to have died in Syria. Mosa recalls patrols in Syria where 150 men and boys would go out and only 120 would return.
Escaping Syria
Abbas had two weeks left in Syria before going back to Iran on leave. After 10 weeks in what he describes as a "living hell," he had begun to believe he might make it out alive. It was his second stint in Syria and, still only 17 years old, he had been chosen to be a paramedic, riding in the back of a 2008 Chevrolet truck converted into a makeshift ambulance.
He remembers thinking that the ambulance and the hospital would have to be better than the bitter cold of the front line. His abiding memory from then was the sound of incoming 120mm shells. "They had a special voice," Abbas said. "And when you hear it, you must lie down."
Following 15 days of nursing training, during which he was taught how to find a vein and administer injections, he was now an ambulance man, collecting the dead and wounded from the battlefields on which the Fatemiyoun were fighting ISIS.
Abbas grew up in Ghazni in Afghanistan, but his childhood ended when his father died from cancer in 2013. Now the provider for the family, he traveled with smugglers across the border into Iran, to work for a tailor in Tehran who had known his father. He worked without documents and faced the same threats as the undocumented Hazara children born in Iran. Even more dangerous were the few attempts he made to return to Ghazni. The third time he attempted to hop the border he was captured by Iranian police.
Abbas was packed onto a transport, along with 23 other children, and sent to Ordugah-i Muhaceran, a camplike detention center outside Mashhad. When they got there the Shia Hazara boys were separated from Sunni Pashtuns, Afghanistan's largest ethnic group, who were pushed back across the border. Abbas was given the same choice as Karim and Mosa before him: Afghanistan or Syria. Many of the other forced recruits Abbas met in training, and later fought alongside in Syria, were addicts with a history of substance abuse.
Testimony from three Fatemiyoun child soldiers confirmed that Tramadol was routinely used by recruits to deaden their senses, leaving them "feeling nothing" even in combat situations but, nonetheless, able to stay awake for days at a time.
The Fatemiyoun officers dealt with withdrawal symptoms by handing out Tramadol, an opioid painkiller that is used to treat back pain but sometimes abused as a cheap alternative to methadone. The drug is a slow-release analgesic. Testimony from three Fatemiyoun child soldiers confirmed that it was routinely used by recruits to deaden their senses, leaving them "feeling nothing" even in combat situations but, nonetheless, able to stay awake for days at a time. One of the children reiterated that the painkiller meant he felt nothing. Users describe feeling intensely thirsty but say they avoid drinking water because it triggers serious nausea and vomiting. Tramadol is addictive and prolonged use can lead to insomnia and seizures.
Life in the ambulance had not met Abbas' expectations. He was still sent to the front line, only now it was to collect the dead and mutilated. Some soldiers shot themselves in the feet to escape the conflict.
"We picked up people with no feet and no hands. Some of them were my friends," Abbas said. "One man was in small, small pieces. We collected body parts I could not recognize and I didn't know if they were Syrian or Iranian or Afghan. We just put them in bags."
Abbas did not make it to the 12th week. One morning, driving along a rubble-strewn road, his ambulance collided with an anti-tank mine. Abbas' last memory of Syria is seeing the back doors of the vehicle blasted outward as he was thrown onto the road.
When he awoke he was in a hospital bed in Iran. He would later learn that the Syrian ambulance driver had been killed and that the other Afghan medic in the vehicle had lost both his legs. At the time, his only thought was to escape.
The Toll on Child Soldiers
Alice Roorda first came into contact with child soldiers in 2001 in the refugee camps of Sierra Leone in West Africa. A child psychologist, she was sent there by the charity War Child Holland. She was the only psychologist for a camp of more than 5,000 heavily traumatized survivors of one of West Africa's more brutal conflicts.
"There was almost nothing we could do," she admitted.
The experience, together with later work in Uganda, has given her a deep grounding in the effects of war and post-conflict trauma on children. She said prolonged exposure to conflict zones has physical as well as psychological effects.
"If you are chronically stressed, as in a war zone, you have consistently high levels of the two basic stress hormones: adrenaline and cortisol."
Even after reaching a calmer situation, the "stress baseline" remains high, she said. This impacts everything from the immune system to bowel movements. Veterans often suffer from complications related to the continual engagement of the psoas, or "fear muscle" – the deepest muscles in the body's core, which connect the spine, through the pelvis, to the femurs.
"With prolonged stress you start to see the world around you as more dangerous." The medial prefrontal cortex, the section of the brain that interprets threat levels, is also affected, said Roorda. This part of the brain is sometimes called the "watchtower."
"When your watchtower isn't functioning well you see everything as more dangerous. You are on high alert. This is not a conscious response; it is because the stress is already so close to the surface."
Psychological conditions that can be expected to develop include post-traumatic stress disorder (PTSD) and attention deficit hyperactivity disorder (ADHD) as well as depression and bi-polar disorder. Left untreated, these stress levels can lead to physical symptoms ranging from chronic fatigue syndrome (CFS or ME) to high blood pressure or irritable bowel syndrome. Also common are heightened sensitivity to noise and insomnia.
The trauma of war can also leave children frozen at the point when they were traumatized. "Their life is organized as if the trauma is still ongoing,"
The trauma of war can also leave children frozen at the point when they were traumatized. "Their life is organized as if the trauma is still ongoing," said Roorda. "It is difficult for them to take care of themselves, to make rational well informed choices, and to trust people."
The starting point for any treatment of child soldiers, said Roorda, is a calm environment. They need to release the tension with support groups and physical therapy, she said, and "a normal bedtime."
The Dutch psychologist, who is now based in Athens, acknowledged that what she is describing is the exact opposite of the conditions at Moria.
Endgame
Karim is convinced that his facility for English has saved his life. While most Hazara boys arrive in Europe speaking only Farsi, Karim had taught himself some basic English before reaching Greece. As a boy in Tehran he had spent hours every day trying to pick up words and phrases from movies that he watched with subtitles on his phone. His favorite was The Godfather, which he said he must have seen 25 times. He now calls English his "safe zone" and said he prefers it to Farsi.
When Karim reached Greece in March 2016, new arrivals were not yet confined to the islands. No one asked him if he was a child or an adult. He paid smugglers to help him escape Iran while on leave from Syria and after crossing through Turkey landed on Chios. Within a day and a half, he had passed through the port of Piraeus and reached Greece's northern border with Macedonia, at Idomeni.
When he realized the border was closed, he talked to some of the international aid workers who had come to help at the makeshift encampment where tens of thousands of refugees and migrants waited for a border that would not reopen. They ended up hiring him as a translator. Two years on, his English is now much improved and Karim has worked for a string of international NGOs and a branch of the Greek armed forces, where he was helped to successfully apply for asylum.
The same job has also brought him to Moria. He earns an above-average salary for Greece and at first he said that his work on Lesbos is positive: "I'm not the only one who has a shitty background. It balances my mind to know that I'm not the only one."
But then he admits that it is difficult hearing and interpreting versions of his own life story from Afghan asylum seekers every day at work. He has had problems with depression and suffered flashbacks, "even though I'm in a safe country now."
---
Abbas got the help he needed to win the vulnerability contest. After he was initially registered as an adult, his age assessment was overturned and he was transferred from Moria to a shelter for children on Lesbos. He has since been moved again to a shelter in mainland Greece. While he waits to hear the decision on his protection status, Abbas – like other asylum seekers in Greece – receives 150 euros ($170) a month. This amount needs to cover all his expenses, from food and clothing to phone credit. The money is not enough to cover a regular course of the antidepressant Prozac and the sleeping pills he was prescribed by the psychiatrist he was able to see on Lesbos.
"I save them for when it gets really bad," he said.
Abbas underwent a hernia operation in Iran, the result of injuries sustained as a child lifting adult bodies into the ambulance.
Since moving to the mainland he has been hospitalized once with convulsions, but his main worry is the pain in his groin. Abbas underwent a hernia operation in Iran, the result of injuries sustained as a child lifting adult bodies into the ambulance. He has been told that he will need to wait for four months to see a doctor in Greece who can tell him if he needs another operation.
"I would like to go back to school," he said. But in reality, Abbas knows that he will need to work and there is little future for an Afghan boy who can no longer lift heavy weights.
Walking into an Afghan restaurant in downtown Athens – near Victoria Square, where the people smugglers do business – Abbas is thrilled to see Farsi singers performing on the television above the door. "I haven't been in an Afghan restaurant for maybe three years," he said to explain his excitement. His face brightens again when he catches sight of Ghormeh sabzi, a herb stew popular in Afghanistan and Iran that reminds him of his mother. "I miss being with them," he said, "being among my family."
When the dish arrives he pauses before eating, taking out his phone and carefully photographing the plate from every angle.
---
Mosa is about to mark the end of a full year in Moria. He remains in the same drab tent that reminds him every day of Syria. Serious weight loss has made his long limbs – the ones that made it easier for adults to pretend he was not a child – almost comically thin. His skin is laced with scars, but he refuses to go into detail about how he got them. Mosa has now turned 18 and seems to realize that his best chance of getting help may have gone.
"Those people who don't have problems, they give them vulnerability (status)," he said with evident anger. "If you tell them the truth, they don't help you."
Then he apologises for the flash of temper. "I get upset and angry and my body shakes," he said.
Mosa explained that now when he gets angry he has learned to remove himself: "Sometimes I stuff my ears with toilet paper to make it quiet."
It is 10 months since Mosa had his asylum interview. The questions he expected about his time in the Fatemiyoun never came up. Instead, the interviewers asked him why he had not stayed in Turkey after reaching that country, having run away while on leave in Iran.
The questions they did ask him point to his likely rejection and deportation. Why, he was asked, was his fear of being persecuted in Afghanistan credible? He told them that he has heard from other Afghan boys that police and security services in the capital, Kabul, were arresting ex-combatants from Syria.
Like teenagers everywhere, many of the younger Fatemiyoun conscripts took selfies in Syria and posted them on Facebook or shared them on WhatsApp. The images, which include uniforms and insignia, can make him a target for Sunni reprisals. These pictures now haunt him as much as the faces of his dead comrades.
Meanwhile, the fate he suffered two tours in Syria to avoid now seems to be the most that Europe can offer him. Without any of his earlier anger, he said, "I prefer to kill myself here than go to Afghanistan."