In a rural village atop a hillside, piles of bricks and stones sit where homes once stood. The village of Syauli Bazar, about an hour outside Nepal's capital Kathmandu, is dotted with small tin shacks, built as temporary shelters in the weeks after last year's devastating earthquakes. These makeshift homes have become permanent fixtures in many of the hardest-hit districts of Nepal, completely transforming the lifestyle of families here, especially women.
Faced with limited resources after the earthquake, women are now forced to cook outdoors using fire pits, store food supplies in small kitchens adjacent to sleeping areas – a big adjustment for a culture where cooking is usually done in a different part of the house – and live in fear with no security in their flimsy homes.
Lari Tamang, a 57-year-old grandmother, lives with her husband and grandson in one of these small shacks in Syauli Bazar. Her two-story home crumbled in the disaster, and she's coming to terms with the fact that they may never be able to rebuild.
The Day the Earthquake Came
When the earthquake happened, I had gone to Kathmandu to visit a few religious leaders. I had just finished saying "Namaste" to all of them and I was ready to sit down when I heard someone say, "It has come." Then, all of a sudden, everything started shaking from side to side, and that is when I realized the earthquake had come.
I remember the road was cracked while I was waiting for a vehicle to bring me back to my village. As luck would have it, I saw a man from our village in a taxi passing by. When he saw me, he stopped me and gave me a ride.
Once we arrived in the village, he dropped me off at the bottom of the hill. Before he left, he said, "Don't worry, sister, everyone's house is broken, it's not just yours." I climbed up the hill to see our home. I saw there were no homes left and I just started crying.
It was complete chaos. We were just trying to figure out what to do, so that night all of us slept in our gardens under the open sky. There were no tents, so we took whatever was left of our homes and created something to sleep under. It was very scary for all of us, and we did not feel safe. We slept like that for a month and a half. At that time, all of us in the village cooked together, and we ate together.
New Life in Tin Shacks
All of us built these lightweight corrugated tin homes very quickly. These are not built strongly at all, just hammered down in several places. Even if there's just a strong wind, it's possible that the tin roofs will go flying up in the air.
It doesn't protect from the elements, like wind and rain. It's scary, since you can hear a "dun dun" sound when it's very windy. It feels like a person is walking over the roof when the wind is very strong.
Our walls and windows are very thin, so I'm always afraid someone is going to break in. Even as an old woman, I feel terrified because people with evil minds don't care if you are old or if you are young. Sometimes, I feel someone will come and strangle me at night when I am sleeping. I cannot sleep deeply since I don't feel secure.
In this village, many women live alone while their husbands work overseas. They have small children in the house, and it's very difficult for these women, especially living under tin roofs like these.
When I saw that my own house had been destroyed, actually, that didn't cause me a lot of pain. What really hurt me was seeing other people's homes destroyed. My first thought was, at least the people who have these small children, I wish their homes were spared. That is what I was thinking the whole time.
If any of us knew that such a disaster was possible, we wouldn't have built two-story homes. I would have made a one-story house if I knew that an earthquake of such magnitude would hit us.
It took my mother a decade to save up the money to build our house. We used to save every penny. Now, we have no means of saving. We built the house 17 years ago for my mother, when things were very cheap. Even at that time, it cost us about 150,000 Nepalese rupees ($1,300) to build. I feel very bad that I cannot rebuild that house, since materials are very expensive now.
The government keeps saying they will help us, but I don't believe that. They've given us false promises.
'I Cannot Keep Crying'
After the earthquake, my head started to feel heavy. Now, every day, I have this buzzing feeling in my head that never seems to go away and I have blurred vision. It starts at nine in the morning and goes till noon usually, and if I sit alone I just feel very angry sometimes. It just never seems to go away.
Of course, I have to do a lot of work in the morning time, so I force myself to work every day. I feel like I am just pulling myself through the day. Before the earthquake, this had really never happened before.
I don't know why it happened. I don't know how it happened. I did go to the doctor, but I don't have money to do any more check-ups. It costs about 2,000 to 3,000 rupees ($20 to $30) every time I go to the doctor. Every time I go to the hospital, they just take a lot of money and don't ever find what's wrong with me, so what's the point?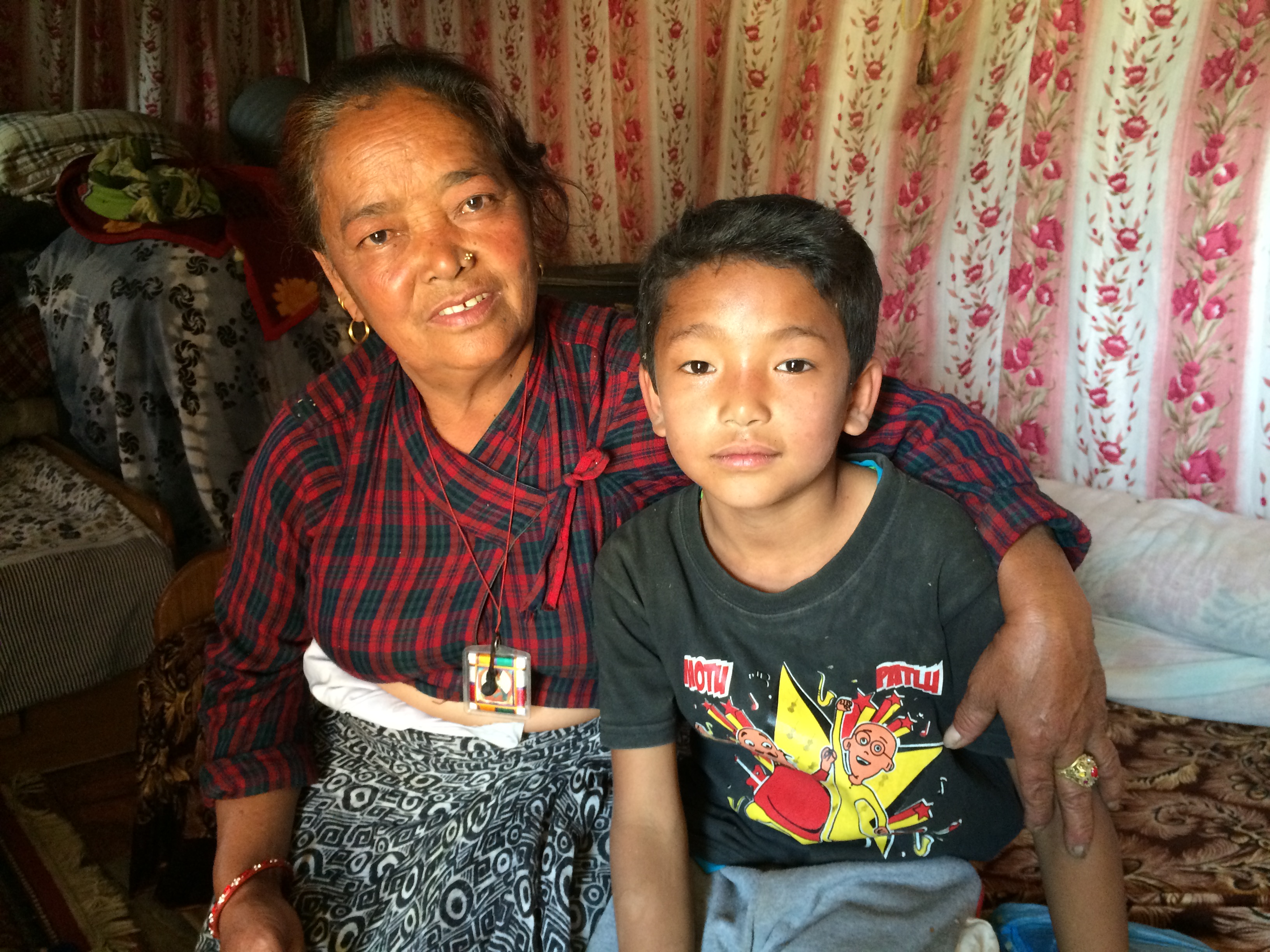 But, I have to keep myself happy, and I cannot keep crying. Sometimes, I try to feel happy by dancing. When there's a wedding or ceremony, I go to these events to dance and enjoy myself.
Fear for the Future
It's difficult to live in one room now. It's very different from what it was like in the past. In our old house, we had a separate room for our kitchen. We still used an open fire, but it was in a different area and felt safer, since it was bigger. Now, it's all in the same area, it's nothing like before.
Now, we have to cook outside. It's not private at all, and people walk all over when you are cooking. It's so much better to cook indoors when no one is watching you.
It's very uncomfortable to live like this. It's very difficult to have the kitchen right here, and have the bed right here, sleep right here, eat right here, it's not comfortable at all. We don't have enough water to wash our dishes.
After the earthquake, the water started drying up more. The water source got twisted in some areas where there were landslides, but people are working to fix that. We are also in the process of rebuilding the water tank, which I'm hopeful about.
There is only one water tap in the village, but the water only comes in the morning for 10 to 15 minutes for each person. So, we never actually get to fill our vessels to the top.
I don't know what the future holds. I don't know if I am going to die like this, living in this temporary shelter. It is a life full of fear for us earthquake victims. I think this house will also topple if another earthquake comes.
Lari Tamang and other families in this village have received support from the international NGO WaterAid and its local partners in Nepal.